'Wheat bags to Sand bags' depicts a snapshot in time in rural Australia at the outbreak of the First World War. This was a small but pivotal part of our nation's history. Australia had only recently achieved nationhood in 1901 when its young men and women were called to service in 1914. At great personal and community cost, farmers and farm labourers from this district exchanged their wheat fields for the battlefields of Europe. This artwork is a tribute to them.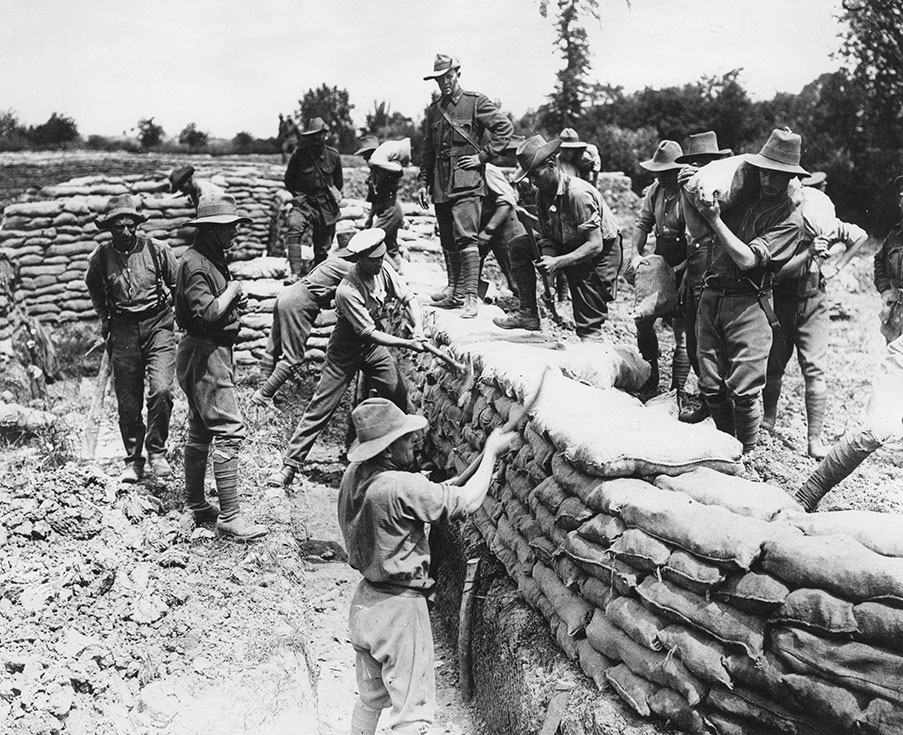 Silo art for Owen had been a discussion point ever since silos began being used as a canvas.
In 2018 the idea gained momentum when a former local resident brought an official proposal to the table of the Owen Community Centre, along with a world-renowned artist at the ready.
Following months of enthusiastic community consultation, a theme was settled upon – 'Wheat Bags to Sand Bags' – to celebrate the early years of farming in the district and pay tribute to the difficult war years.
Successful grant applications and fundraising events allowed the project to commence in March 2021.
The Owen silos are South Australia's 10th silos to be painted, with others at Tumby Bay, Kimba, Cowell, Coonalpyn, Karoonda, Waikerie, Farrell Flat, Paringa and Wirrabara.
Robert (Alf) Hannaford AM grew up over the hills in Riverton.
As a self-taught artist, his prolific professional career as a painter and sculptor has spanned 60 years.
Robert's artworks have included many official portraits of notable Australians, while his bronze sculptures have included Sir Donald Bradman and Her Majesty Queen Elizabeth II.
After living and working around the world, and receiving a generous handful of awards along the way, Robert has returned home to Riverton.
This is his first silo art.
www.roberthannaford.com.au
Cam Scale started painting in early 2000. He is a widely recognised artist and mural painter.
Sydney-born and raised, Cam spent a decade painting in Melbourne. He now lives on the New South Wales north coast.
This is cam's third silo art – his others are at Devenish (Vic) and Kimba (SA).
Chris is a master visual storyteller who has been honing his craft since 1990.
Based in Adelaide, Chris is experienced in journalism, film, digital and time-lapse photography, combining these skills to create engaging and meaningful visual stories.
---
www.insightvisuals.com.au
---
We are a welcoming, supportive and active community with strong farming roots.
Our population of around 400 is fairly stable. We enjoy the rural life, with some of us commuting to Adelaide and surrounding regional centres for work. Our town is also much sought after by retirees.
Owen was first established in 1878, designed in a grid pattern surrounded by parklands to reflect Colonel Light's City of Adelaide.
Prior to this, European settlers had been farming in the area back to the 1850s. And before that, for many thousands of years, these were homelands of the Kaurna Aboriginal people whose mallee scrub and grassland hunting grounds were steadily converted to cropping and grazing.
In the early days, Owen was very much a rural town servicing the needs of a farming community, with blacksmiths shops, chaff mills, butter factory, butcher, bakery and drapery some of the many local businesses.
Around the turn of the 20th Century there was a hive of building activity with the construction of the Town Hall, Owen Hotel (formerly Wooroora Hotel), Primary School and the three churches (Church of Christ, Methodist and Anglican).
Playing sport and belonging to one of more service clubs is important to many of us, and is a reflection of our strong community spirit.
We're immensely proud of our little town – we care for it and for each other well.
Whether you're here for a brief visit – or here to stay – we welcome you.
---